L'INTERNATIONAL DES FEUX LOTO QUEBEC - MONTREAL FIREWORKS FESTIVAL
The International des Feux Loto-Québec, also known as the Montreal Fireworks Festival, is the largest and most prestigious fireworks competition in the world.
The founder and former owner of Panzera srl, Mr. Giovanni Panzera, was the artistic director from 1982 to 2000. Even after he passed away, our company continued to play a leading role in the event, with the opening or closing show reserved for us. Maria Grazia Gerbaudo, our Chief Sales Officer, serves on the selection committee along with Technical Director M. Paul Csukassy and Competition Director Martyne Gagnon.
"Over the course of many years, I have had the privilege of working closely with this gentleman who has earned the title "Master". He has been, without a doubt, the heart and soul of the Montreal Competition and because of him and his leadership, Montreal has attracted and continues to attract pyrotechnicians from around the world."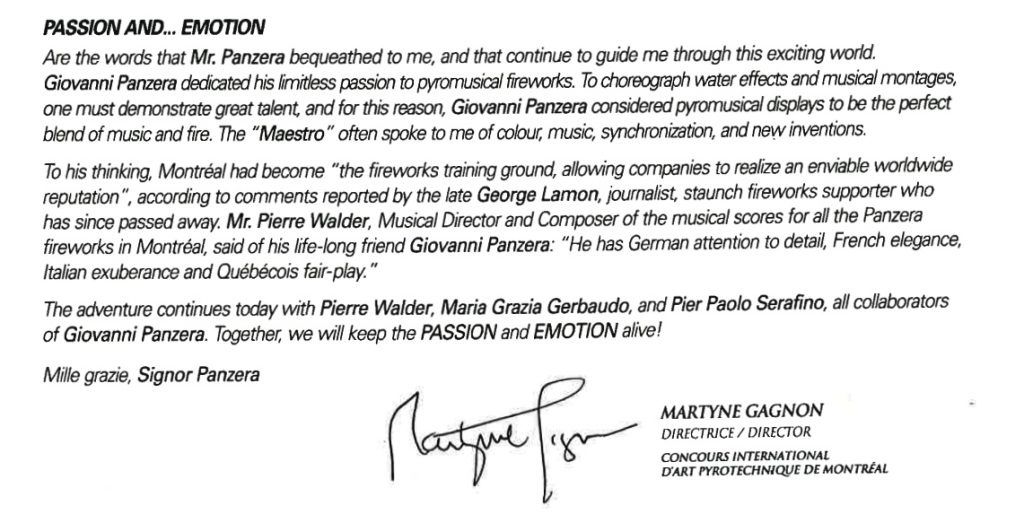 PARTNERSHIP WITH ROZZI FIREWORKS
Rozzi Fireworks is an American company from Loveland, literally the land of love; will it be a coincidence that the company's headquarters are located here? The Rozzi Fireworks pyrotechnic shows are pure EMOTION:
"Why are fireworks so magical? Is it the surprise of sudden sparks? The heartbeat in the suspense between the first flash and the final bang of colors, lights and noises? Or maybe it's the people we watch the fireworks with, the tradition of celebrating together; the passage of time and the power of the community. "
The story between PANZERA and ROZZI FIREWORKS began many years ago… and in all these years both companies have developed to become giants known everywhere in the world of international pyrotechnics.
The shows created in collaboration with Rozzi are animated by dedication, collaboration, support but also a lot of fun.
AMUSEMENT PARKS, A STORY OF EXCITED CHILDREN AND ADULTS WHO RETURN TO CHILDHOOD
A day in an amusement park such as Disneyland Paris or Universal Studio in Singapore cannot be ended without a firework show.
"Watch in amazement as Cinderella's Castle becomes part of history by magically transforming itself through extraordinary cutting-edge projection technology that you must see to believe. "
But what is behind all this? Who are the protagonists who make this magical show possible?
An orchestra kicks off the show, the kids sing the rhymes of the most famous songs, designers, cartoonists, graphic artists and then there is also PANZERA, which supplies its products for the creation of the fireworks show.
Amusement parks are among our most demanding customers and we are very proud that they are part of the PANZERA success.
FIREWORKS COMPETITION KRAKOW